Overview
The B4 Study is a hospital-wide study at Massachusetts General Hospital that is currently recruiting pregnant people to investigate the effects of the prenatal period on child neurodevelopment. This study is a collaborative effort between the Departments of Psychiatry, OB/GYN, Pediatrics, and Medicine, and it will operate in three stages.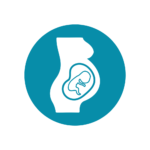 The first stage of the B4 study is currently underway and recruiting pregnant people 18 and older who are receiving prenatal care at MGH. This stage will consist of web-based surveys administered at up to three timepoints during pregnancy as well as two timepoints following your childbirth.
The second stage will consist of follow-up with the children born during the first stage of the study. The details of this stage of the B4 study will be posted here at a later date.
The third stage will take what was learned in the first and second stages to design and test interventions to reduce risk of poor neurodevelopment in children. The details of this stage of the B4 study will be posted here at a later date.
Goals of the B4 Study
The B4 Study hopes to discover which factors during pregnancy (such as nutrition, exercise, sleep, stress, social support, COVID-19 exposure, etc.) may be linked to better or worse brain development outcomes for babies. Broadly, we hope to learn more about the effects of pregnancy on child brain development and ultimately to provide ways for families to reduce risk of poor developmental outcomes for their children.
Why Now?
It has been well-established that the experiences and lifestyles of pregnant people have profound impacts on their fetuses. In particular, stress and exposure to illness can be particularly harmful to fetal development. As such, the COVID-19 pandemic presents novel risks to expecting parents and their growing fetuses. While testing positive for the virus during pregnancy may come with specific health risks to the fetus, the COVID-19 pandemic is also a uniquely stressful experience for expecting parents, and the impacts on developing fetuses during this time, with or without being exposed to the virus, are not fully known.
How Do I Join the B4 Study?
In order to participate in the B4 Study, you must be all of the following:
At least 18 years of age or older

Receiving prenatal care at Massachusetts General Hospital and/or its affiliated community health clinics in Charlestown, Chelsea, Revere, or Waltham
If you satisfy all of these requirements, please fill out our Eligibility Form and we will be in touch with you shortly. 
Thank you for your interest in our research!